E_COTTON: SUSTAINABLE HOTEL TEXTILES
There is an increasing demand for durable and coloured textiles from the hospitality industry to create a sustainable look for an optimal customer experience. Our new e_cotton collection offers the ultimate answer.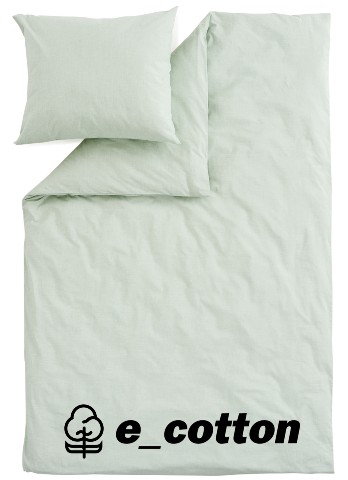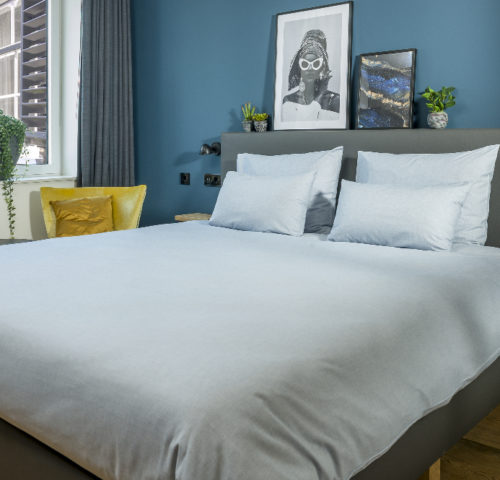 E_cotton bed linen
The bed linen collection of e_cotton consists of:
1-person duvet cover 140×260 cm
2-person duvet cover 200×260 cm
Lits-jumeaux duvet cover 240×260 cm
Pillowcase bag model 65×90 cm
Pillowcase hotel closure 62×73+20 cm
Decorative pillow 40×40+15 cm
Executed with the sustainable OCS Blended label, consisting of 70% organic cotton and 30% polyester. This combination ensures that the bed linen dries faster, lasts longer and is lighter in weight, which in turn is advantageous for the washing process. In addition, the bed linen has a soft and comfortable touch. The collection is available in five brilliant, blended colours: taupe, grey, blue, pink and green with a perfect mix and match. The unique yarn gives the collection a natural linen look. On request, the collection is also available in different sizes or as a mix&match (with 2 different colours).
E_cotton bath linen
The e_cotton bath linen collection matches perfectly with the bed linen both in colour and design. An infinite number of combinations can be made with the nine different colours: anthracite, white, ivory, ochre yellow, old pink, green, blue, grey/green and sand. The e_cotton bath linen collection consists of:
Washing glove 15×21 cm
Bath towel 50×100 cm
Bath sheet 70×140 cm
Sauna towel 100×200 cm (only available in white, ivory, sand, anthracite and blue)
This collection with Fairtrade Cotton label is made of 100% organic cotton, has a weight of 450 gr/m2 and is chlorine and colour resistant when washed at high temperatures. The beautiful finish gives the bath linen a luxurious look.