CLEANLEASE OPTS FOR SUSTAINABLE GRS TEXTILES
HeboVanDijk presented CleanLease with a certificate for the large-scale purchase of sustainable textiles made from recycled cotton and bearing the Global Recycled Standard (GRS) seal of approval. For both companies, represented by Frank Hendricks (HeboVanDijk) and Theo Lantinga (CleanLease), this is a great step towards even more sustainable services and cooperation.
CleanLease opts for GRS textiles made from recycled cotton
Making all business processes sustainable, the textile package for rental included, is one of the goals of textile cleaner CleanLease. With its slogan "Because you care" in mind, CleanLease has opted for textiles made from recycled cotton with the GRS seal of approval.
Over the year 2020, CleanLease has purchased over 213,000 kilograms of GRS textiles from HeboVanDijk. In terms of volume, this corresponds to 24 full sea containers (40ft)! This textile is used for customers in the Cure, Care and Leisure segments, such as hospitals, care institutions and holiday parks. By choosing GRS textiles, an important contribution has been made to improving the ecological footprint. In comparison with a 100% cotton textile, CleanLease saved 11.5 billion litres of water and emitted more than 2 million kilograms of CO2 (according to Modint Ecotool calculation).
Unique collection with recycled cotton
The basic raw material for the GRS collection comes from cutting waste, which is released during the cutting and manufacturing of 100% cotton t-shirts: a waste stream of unused, new cotton (pre-consumer). Through mechanical recycling, this waste textile is reduced to loose cotton fibres. Cotton that is more sustainable than this does not exist! After the addition of 20% polyester for strength and a longer lifespan, the yarn is spun again. This yarn is used for the production of bath linen, bath mats, bedspreads, bolsters and bibs. All these articles are recyclable after disposal.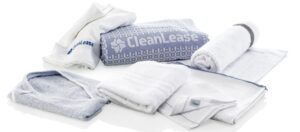 Global Recycled Standard seal of approval
The internationally recognised Global Recycled Standard label guarantees that an article actually contains recycled material. For example, a GRS article must contain at least 50% recycled material to be allowed to carry the GRS label. The GRS articles of HeboVanDijk contain 80% recycled cotton! In addition, the GRS norm requires that employees of factories involved in the production of GRS products are protected by a strong social policy (e.g. prohibition of forced and child labour). Environmental protection measures also apply, such as limiting the use of hazardous chemicals in the processing of GRS products.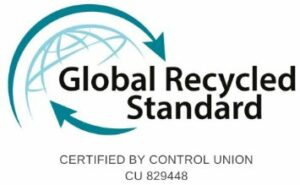 In the Netherlands, HeboVanDijk is one of the few textile suppliers for care textiles and hospitality textiles that is GRS certified (under certification number 829448). And this has been the case since 2017! Every year, the certification is checked during an audit by the independent certification body Control Union and renewed (if all requirements are met).
Would you like to know more about textiles made from recycled cotton with the GRS seal?
We would be happy to tell you more about our GRS textile collection made from recycled cotton. You are welcome to visit our showroom in Best (The Netherlands) to see and feel this collection for yourself. Please call us on +31 (0)40-2072680 or complete the contact form to make an appointment.